In addition to these standard furnaces, we welcome orders to design and construct custom-made furnaces to meet your requirements.
Please do not hesitate to contact our sales department at any time regarding the details of required drying conditions or any other issues.
Please note that the information below is subject to change without notice due to continuing functional improvements.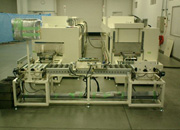 This model heats each rack continuously.
The finned-rod heater design delivers highly efficient heating.Labor-saving design.
An automatic shutter decreases unwanted cooling from air conditioning in the shop and minimizes heat loss during loading and discharging of work.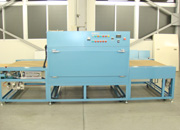 Tube-type far-infrared heaters equalize heat from the entrance to the exit.
Stainless-steel light reflectors enable irradiation of objects with minimal waste.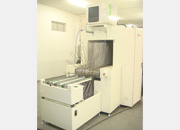 This furnace uses a wicket specially developed for curing of the base, enabling transport and continuous operation.
Adopts a special conveyor to automate loading and discharging of bases.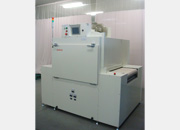 This drying equipment uses ultraviolet radiation.
Options: Adjustment plate for uniform illumination
Light-shielding shutters (automatic)