In addition to these standard furnaces, we welcome orders to design and construct custom-made furnaces to meet your requirements.
Please do not hesitate to contact our sales department at any time regarding the details of required drying conditions or any other issues.
Please note that the information below is subject to change without notice due to continuing functional improvements.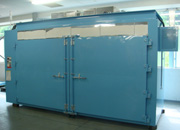 We define high-temperature furnaces as furnaces with a maximum temperature of 300℃ or more.
We are pleased to design and construct BOX-type furnaces with your preferred temperature (to a maximum of 700℃)
Small and large BOX-type furnaces are available. Please don't hesitate to contact us.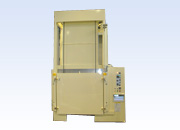 This furnace comes installed with an up-and-down switch for the automatic door opening and closing system.
When the door is closed, it automatically crimps the door with air cylinders and air clamps to prevent heat loss.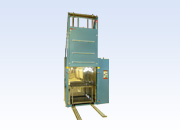 This furnace is manually operated.When the door is closed, manual clamps crimp the door to prevent heat loss.
The manual model offers a low-cost alternative to furnaces with automatic door opening/closing systems.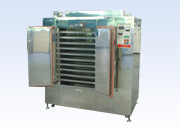 The interior and exterior of the furnace are constructed of stainless steel.
Please contact us to choose the type of stainless steel that is right for you.
Option: This furnace can be combined with a wide variety of filters.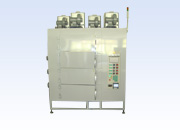 This furnace incorporates several treatment rooms.Each treatment room is individually controlled, enabling work on projects with different requirements at the same time.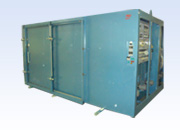 This BOX-type furnace features a sliding side door.This type is especially useful in locations where installation space is limited and hinged doors cannot be used.This type is unsuitable for high-temperature equipment, as sealing performance is inferior to that of hinged doors.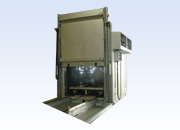 This furnace incorporates a transport mechanism.Work is transported using a combination of manual switches and tact timers.The transport mechanism can also be installed in an automatic transport line.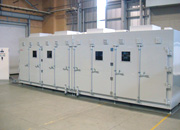 This large furnace features a width of 7m.
This furnace is ideal for large products.With no central pillars, work can be inserted and removed from the furnace smoothly.Options include attachment of a partition board and separate right/left operation..